Movies of Delray/Lake Worth
She Is The Ocean
An in-depth exploration into the lives of nine astonishing women from the four corners of the globe who share one thing in common: a profound love for the Sea. A love so profound that they have chosen to make the Ocean the center of their physical, philosophical and professional lives.
In a unique documentary concept, the director has selected these women to create a portrait of what could be a metaphor for one woman's Ocean life through all her ages. Starting with three women who engage in the thrill of ocean sports, to a famed scientist who plunges into the deepest depths on the edge of human survival, to a cliff diver who is hailed as "The bravest woman in Germany," SHE IS THE OCEAN captures the common thread that bonds them together. Both how it has formed their lives and given them meaning beyond the normal constraints of society.
Click Here To Watch and Own the movie, SHE IS THE OCEAN -$12

---
RBG
To honor the memory of Supreme Court Justice Ruth Bader Ginsburg we are offering the Academy Award Nominated documentary about her life, RBG, for purchase in our virtual screening room.
Included is an hour-long interview conducted this summer with Betsy West and Julie Cohen, the film's directors
An intimate portrait of an unlikely rock star: Justice Ruth Bader Ginsburg. With unprecedented access, the filmmakers explore how her early legal battles changed the world for women.
Click Here To Watch and Own the movie, RBG -$7

---
THE ARTIST WIFE
The wife of a famous artist tries to contact his estranged family before his dementia worsens.
Click Here To Watch Movie -$12

---
AVA
An assassin becomes marked for death by her own black ops organization after questioning orders and breaking protocol.
---
GOD OF THE PIANO
Anat (Naama Preis, Best Actress winner at the Jerusalem Film Festival) has never been able to reach her father's exacting musical standards, so the family's hope of producing a talented composer rests on her unborn son. Anat takes drastic measures to ensure that he becomes the musical prodigy her father always wanted. But when the boy grows up indifferent to achieving his destiny as a great pianist, Anat is forced to stand up to her father and confront the harsh realities of her past.
---
I AM WOMAN
1966. Helen Reddy song "I Am Woman" which becomes the anthem for the second wave feminist movement. professional life, Helen finds the strength to take control of her own career and keep pursuing her dreams.
Click Here To Rent Movie - $12

---
SPACE DOGS
Laika, a stray dog, was the first living being to be sent into space and thus to certain death. Following her traces and filmed from a dog's perspective, Elsa Kremser and Levin Peter's "Space Dogs" accompanies the adventures of her descendants: two street dogs living in today's Moscow.
Click Here To Rent Movie - $12

---

A CHEF'S VOYAGE
The film follows Emmy and James Beard award-winning Chef David Kinch, and his young team from their small 3 Michelin Star restaurant in California for a one of a kind "four hands" collaboration with three legendary chefs at their iconic restaurants in Provence, Paris and Marseille.
Click Here To Rent Movie - $10

---
SAUL & RUBY'S HOLOCAUST SURVIVOR BAND
In this utterly heart-affecting and enthralling film, two Holocaust survivors in South Florida form a klezmer band and begin an extraordinary musical journey that celebrates life and the transcendent power of music to heal.
Click Here To Rent Movie - $12

---
JIMMY CARTER, ROCK & ROLL PRESIDENT
If it hadn't been for a bottle of scotch and a late-night visit from musician Gregg Allman, Jimmy Carter might never have been elected the 39th President of the United States. JIMMY CARTER, ROCK & ROLL PRESIDENT charts the mostly forgotten story of how Carter, a lover of all types of music, forged a tight bond with musicians Willie Nelson, the Allman Brothers, Bob Dylan, and others.
Click Here To Rent Movie - $10

---
Driven to Abstraction
This movie unravels a mutating tale of self-delusion, greed, and fraud -- the $80 million forgery scandal that rocked the art world and brought down Knoedler, New York City's oldest and most venerable gallery. Two women from very different worlds crossed paths in what would become the greatest hoax ever of Modern American Art.
Click Here To Rent Movie - $12

---
THE HOLE
Set just prior to the start of the 21st century, this vaguely futuristic story follows two residents of a quickly crumbling building who refuse to leave their homes in spite of a virus that has forced the evacuation of the area. As rain pours down relentlessly, a single man is stuck with an unfinished plumbing job and a hole in his floor. This results in a very odd relationship with the woman who lives below him. Combining deadpan humor with an austere view of loneliness and a couple of unexpected musical numbers.
Director: Tsai Ming-Liang Running time: 89 min In Mandarin with English subtitles
Click Here To Rent Movie - $12

---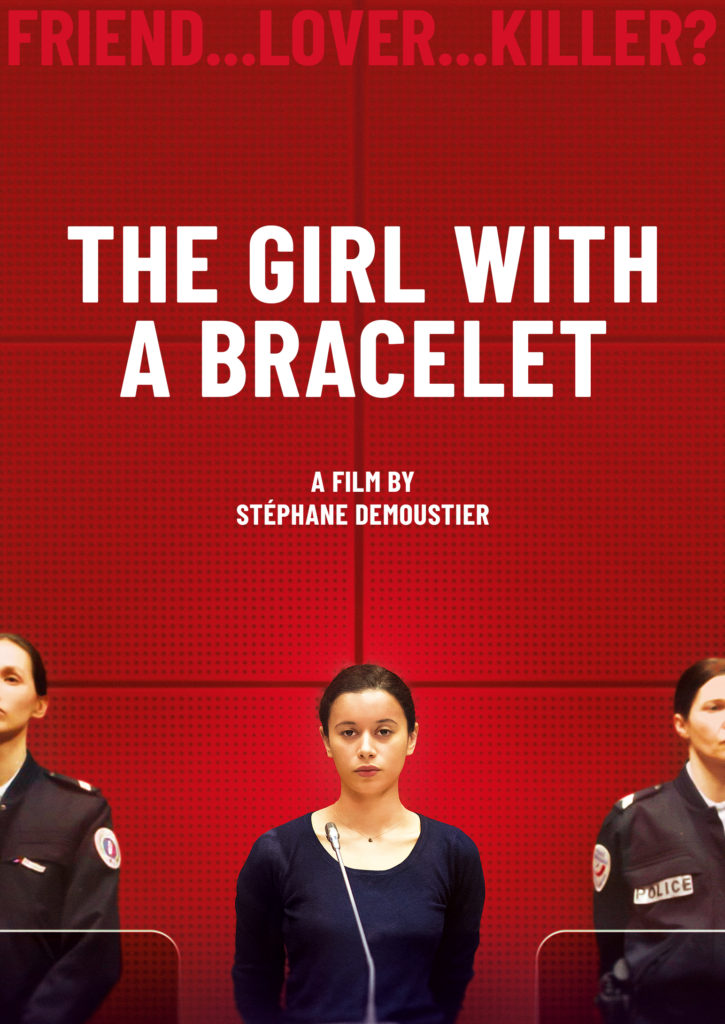 The Girl With A Bracelet
In French with English Subtitles 95 minutes
"What Demoustier has done here, and done quite successfully, is taken a basic mystery plot, like something out of a TV movie, and used it to ponder how each one of us could react to a ghastly crime, and how we expect others to react in turn." — Hollywood Reporter
"Retains many of the merits of its source, similarly building an old-fashioned did-she-or-didn't-she mystery… into a more probing, ambiguity-laced psychological profile."— Variety
Click Here to Watch the Trailer and to Rent
THE GIRL WITH THE BRACELET -$10.00
---
The August Virgin
100% Fresh on Rotten Tomatoes
Click Here to Watch the Trailer and Rent The August Virgin - $12.00
---
---
CONVICTION
A gripping real-life courtroom drama. – HOLLYWOOD REPORTER
As a juror at Jacques Viguier's trial, Nora is convinced that he did not kill his wife. This intuition quickly becomes an obsession. She persuades the most famous lawyer in the country to defend him. Together they start a compulsive to prove his innocence against all odds. That quest has a price they might not be ready to pay.
Click Here to See Trailer and Rent CONVICTION - $10.00
---
My Dog Stupid
Henri is a middle-aged writer with fading inspiration. Feeling increasingly misunderstood by his family, he dreams of running away to start over again. Yet when he discovers a bad-mannered dog in his garden, he decides to adopt him. The bittersweet and moving comedy about love standing the test of time stars iconic real-life couple Charlotte Gainsbourg and Yvan Attal. In French with English subtitles.
Click here to See Trailer and Rent My Dog Stupid - $10.00
---
The Fight
There's a pre-recorded discussion immediately following the film featuring Kerry Washington and the five ACLU lawyers featured in the film (Brigitte Amiri, Lee Gelernt, Dale Ho, Joshua Block, and Chase Strangio). This conversation is exclusive to all virtual cinema participants.
The Fight is an inspiring, emotional insider look at how these important battles are fought and the legal gladiators on the front lines fighting them. When a mother is separated from her child, a soldier is threatened to lose his career, a young woman's right to choose is imperiled at the pleasure of a government official, and the ability to exercise our basic right to vote is threatened, the consequences can be devastating to us and to future generations.
Click Here to Watch the Trailer and Watch The Fight - $12.00
---
---
A tender, heart-breaking story about one young man and his friendship with Sigmund Freud during the Nazi occupation of Vienna. Seventeen-year-old Franz journeys to Vienna to apprentice at a tobacco shop. There he meets Sigmund Freud (Bruno Ganz), a regular customer, and over time the two very different men form a singular friendship
Click Here to Watch the Trailer and Rent The Tobacconist - $12.00​
---
Out Stealing Horses
A grieving widower moves to the country where a chance encounter rekindles memories from his past. OUT STEALING HORSES is based on the bestselling novel by Norwegian author Per Petterson, which received several important international awards and was included in The New York Times '10 Best Books of 2007. Petterson's novels have been translated into more than 50 languages.
Immediately following the film there will be a pre-recorded discussion between Stellan Skarsgard and director Hans Peter Moller. This conversation is exclusive to virtual cinema engagements. RUNTIME: 122 minutes
Click Here to Watch the Trailer and to Rent Out Stealing Horses - $12.00
---
---
Broken Mirrors
Seventeen-year-old Ariela is overshadowed by her strict military father who inflicts severe methods of punishment as a form of discipline. When she commits a grave error that he isn't willing to punish her for, she seeks punishment of her own. Ariela embarks on a dark quest where she will discover a secret to her father's past that will lead them to confront one another.
Click Here to Watch the Trailer and Rent - $6.99
---
A Regular Woman
Based on the tragic "honor killing" of Hatun Aynur Sürücü in Berlin in 2005, the film A REGULAR WOMAN portrays the short life of a free-spirited young woman living with an ultra-conservative Turkish Muslim family in Berlin. Aynur escapes the abusive family and struggles to attain independence, only to be shot to death by her youngest brother shortly before she is set to move away.
Click Here to See Trailer and Rent - $6.00
---
The Audition starring Nina Hoss
Anna Bronsky is a violin teacher at a music-focused high school. Despite the opposition of all other teachers, Anna drives through the admission of a student, Alexander, in whom she detects a remarkable talent. Her colleague Christian, with whom she has an affair, persuades her to join a quintet. When she fails during their joint concert, the pressure mounts and she focuses all her attention on her student Alexander. Come the day of the exam, events take a tragic turn.

---

You will be able to watch the film for 72 hours on any of the following devices unless noted.
VIRTUAL CINEMA VIEWING OPTIONS
Desktop Computer
Laptop
iPad
Chromebook
Your mobile device
IMPORTANT NOTE: The only way to watch any of these films on a television is to mirror or cast your device to your television.