Movies of Delray/Lake Worth
Sony Pictures Classics and Movies of Delray and Mel Maron
representing the Palm Beach Film and TV Commission has dedicated
the premiere screening of Leisure Seeker to be shown on
Friday, March 2nd at 7:30pm at Movies of Delray.

All proceeds will be donated to the Stoneman Douglas Victims' Fund. Regular admission price will prevail and will be donated along with any additional donations.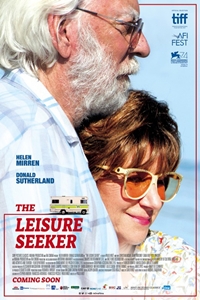 A runaway couple go on an unforgettable journey in the faithful old RV they call The Leisure Seeker. Starring Helen Mirren and Donald Sutherland.
---